EMERGENCY TEMPORARY HOUSING FOR FLORIDA
NO DOWN PAYMENT  |  AS LOW AS $127/mo oac
Immediate Delivery To Texas Available
Our hearts are with the citizens of Florida as you endure the aftermath of Hurricane Irma.  We're here to help provide Emergency Housing with New and spacious RVs that will provide comfort and a home of your home while you need temporary housing.

Here's how we can help: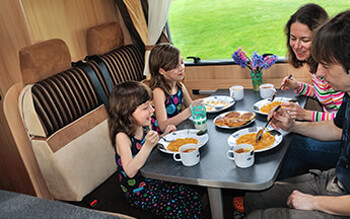 We have over 800 RVs in stock and available for immediate delivery to your home town in Florida.
No down payment oac will be required.
Payments can be as low as $127 per month oac.
You don't need a truck to receive this temporary housing.
We'll deliver to you wherever you are in Florida for just $1,500.
When delivered, your RV will be ready for you to call home, complete with:

New Deep-Cycle Battery
Propane For Cooking
RV Starter Kit with necessities
You Can Count on AC Nelsen During This Trying Time
We're not just trying to sell RVs. We want you to have a safe place to call your temporary home . . . A place where you can gather the family for dinner, go to bed at night feeling comfortable in your own place, and wake up to a fresh pot of coffee to start your day.
AC Nelsen RV is the oldest RV dealer in the world. We're a Top 10 Dealer nationwide, and we're the #1 Forest River Cherokee RV dealer. We mention this only to assure you that we're reputable and we've been around a very long time. You can count on us today, tomorrow, and for years to come.
Enough About Us . . . We're Here To Take Care of You.
We can help you with temporary emergency housing and deliver it to you immediately.  No haggling, no hassle -- we believe in honest business.  We'll expedite the paperwork and make it easy for you to secure a temporary home quickly and hassle free.  Please reach out to us in whatever way is comfortable for you:
A SAMPLE OF EMERGENCY HOUSING TRAILERS IMMEDIATELY AVAILABLE . . .
We have a large inventory of these trailers in stock and ready for immediate delivery.  This is just a sampling.  You can view all of our inventory, also available for delivery to Florida, by clicking New RVs.  While Used RVs are also available, our low, low prices on New RVs are as as low as or lower than Used RVs.
We're sorry. We were unable to find any results for this page. Please give us a call for an up to date product list or try our Search and expand your criteria.